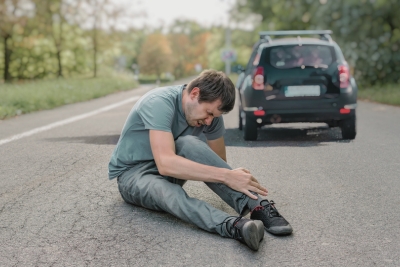 Victims can recover financially after a pedestrian hit and run through a personal injury lawsuit or by filing a claim against their own insurance company. The liable party in a hit-and-run depends on whether the at-fault driver can be found. A pedestrian hit-and-run accident usually occurs when a vehicle hits a pedestrian and flees the scene. You have a two-year window under Illinois statute of limitations law to file a personal injury claim. The compensation you can pursue includes economic and non-economic damages. Economic damages are for the financial losses you sustained due to the accident, while the non-economic damages cover your physical pain and suffering and emotional distress.
What Happens When a Pedestrian Is Hit by a Car?
Getting hit by a moving vehicle can have temporary or long-lasting effects on the pedestrian. The victim may endure agonizing and painful injuries. The victim may also suffer emotional trauma, which takes time to heal. In severe cases, a pedestrian accident victim may sustain a life-changing disability.
The sudden impact of a moving vehicle hitting a person may result in bone fractures. Blood vessels in the body and the brain may burst quickly due to the force of the impact. It is also common for soft tissues to experience traumatic and life-threatening tears immediately.
Swelling is a common occurrence after sustaining trauma to the body following an accident. The victim may experience swelling caused by sprains, pulled muscles, or tissue damage. It is also possible for the swelling not to reach full effect until days or hours later.
Common injury symptoms include headaches and neck, shoulder, and back pain. You may also experience abdominal pain, nausea, tenderness, or stiffness. Other symptoms include changes in behavior or mood, tingling sensations, numbness, contusions, and bruising.
Legal Options for a Pedestrian Struck by a Car
Filing an insurance claim is one of the legal options for financially recovering after a pedestrian accident. If the settlement negotiations are unfruitful, victims can pursue an injury lawsuit against the at-fault party in an appropriate civil court.
Motorists are usually considered responsible for the accident and may face charges for hitting a pedestrian. Liability for the accident remains on them if they fail to stop at the accident scene. However, if the at-fault driver can not be found after a hit-and-run pedestrian accident, victims may be able to recover damages against their own uninsured motorist coverage.
Besides a personal injury claim, individuals may pursue a wrongful death claim if the accident resulted in the death of a loved one. A wrongful death claim financially compensates survivors for the loss of a loved one, including the deceased's lost wages, funeral expenses, and lost companionship.
Proving Liability in a Pedestrian Accident Claim
You must prove the elements of negligence to recover compensation. The first element to prove is that the motorist owed you a legal duty to drive safely. The law requires drivers to operate a vehicle in a way that prevents foreseeable harm to others. Therefore, this element automatically applies to a pedestrian accident case.
The second element of negligence involves showing that the defendant violated the duty of care. You can do that by presenting videos, pictures, or witness statements to show that the motorist failed to observe traffic rules or drive safely.
The third element entails demonstrating that the motorist's breach of duty led to your injuries. Medical records, diagnostic test reports, and pictures can help prove your injury and link it to the accident.
The fourth element of negligence requires you to prove that you suffered actual damages due to the accident and resulting injury. The damages can be tangible (economic) or intangible (non-economic). Medical bills and invoices, wage statements, and a letter from your employer can help prove this element.
A skilled pedestrian accident lawyer in Chicago, IL, knows the nature of evidence and arguments required to prove these elements.
Statute of Limitations for Pedestrian Hit and Run Accident Claims in Chicago, Illinois
When you get hurt in a hit-and-run accident, you can only pursue a legal claim against the responsible party within a limited timeframe. The time frame is referred to as the statute of limitations. Failing to file a claim within this period will prevent you from seeking compensation.
The statute of limitations for pedestrian hit-and-run cases varies by state. If the accident happened in Chicago, Illinois, you have a two-year window to assert your rights, file a claim, and pursue compensation. However, exceptions based on the circumstances of your injury claim may entitle you to a different deadline.
Exceptions to the Illinois Personal Injury Statute of Limitations
Certain scenarios may delay or pause the statute of limitations. As such, they may extend the two-year filing window for personal injury claims. Exceptions for this deadline include:
The injured person was under a temporary or permanent incapacitating disability after the accident.

The injured person was under 18 years at the time of the incident.

The at-fault party left Illinois before a personal injury claim could be pursued.
If any of these scenarios occur, you can file the claim once the exception ceases to apply. An injured party with an incapacitating disability, for instance, can file a lawsuit after the disability is removed. Underage victims can pursue a claim once they turn 18.
Compensation You Can Pursue as an Injured Pedestrian
Pursuing financial compensation after getting injured in a pedestrian hit-and-run accident can help you recover expenses related to your injury. It's also a great way to hold the at-fault party accountable for driver negligence. A pedestrian hit-and-run lawyer can represent you throughout the compensation process and help you pursue the damages available in a pedestrian accident lawsuit.
A hit-and-run accident falls under personal injury law. As such, you can seek compensatory damages in a lawsuit to cater for any losses you sustained. The two types of compensatory damages available include economic and non-economic damages.
Pursuing economic damages is crucial to recover the monetary losses brought by the accident. In the claim, you will be entitled to compensation for your medical bills, lost wages, and other out-of-pocket expenses.
You may pursue non-economic damages for the pain and suffering arising from the incident. If the claim is successful, you may receive compensation for emotional distress, depression, anxiety, PTSD, or any other emotional effects of the accident or injuries.
How to Strengthen Your Claim for Compensatory Damages
Keep track of any expenses related to the hit-and-run to strengthen your claim for economic damages. You should also collect all necessary documents, such as invoices, bills, and receipts. Keeping track of lost wages can also help boost your claim.
You need evidence of the psychological and emotional impact of the injuries and accident to seek non-economic damages. The evidence may include medical reports or records from accredited mental health practitioners. It may also include documents detailing your losses brought by emotional distress.
Enlist the professional help of a pedestrian accident lawyer when filing a claim with the at-fault motorist's insurer. The lawyer can provide an accurate estimate of your compensatory damages.
What to Do After Getting Hit by a Car as a Pedestrian
If you suffer an injury in a pedestrian accident, you need to take immediate action. What you do after the accident can help protect your legal rights and health.
You should call 911 if you or someone involved in the hit-and-run requires urgent medical attention. If you are in stable condition, exchange contact information with witnesses who saw the motorist who hit you. Contact the relevant law enforcement officers and have them investigate and prepare a police report. Then, speak with the police responding to the scene, so they can begin their search for the at-fault driver.
Avoid discussing anything about the responsibility of the accident or your legal options at the accident scene. Your statements may be used against you to deny or lower the compensation. Consider taking pictures of the scene and your injuries. These photos may help you prepare a personal injury claim against the responsible party.
Seek medical treatment immediately after a hit-and-run accident. Contact your primary medical provider if you are in a stable condition. Be sure to get treated before the symptoms worsen.
Through its adjusters, the liable insurer may try to underestimate the extent of your injuries if you failed to seek medical attention in time. As such, the insurer may offer a lower settlement amount or deny your claim entirely.
Some injuries from a hit-and-run accident may take a while to show. Seeing a doctor ensures that you receive proper treatment. His or her report and testimony can also help tie your injuries to the accident.