Representing Injury Victims Throughout Chicagoland
One of the most dangerous job sites to work on is a construction site. Construction accidents happen with high frequency because of the many types of heavy equipment, materials, large vehicles, and many people moving around, mistakes happen and they can lead to devastating injuries or death for workers.
According to the National Institute for Occupational Safety and Health (NIOSH), there are well over 11 million people employed in the construction industry throughout the United States. Every year there are several thousand workers injured while on the job.
If you are a construction worker in Chicago who was injured while at work, the Chicago construction accident attorneys at Shindler & Shindler can help.
Types of Construction Site Accidents
There are several common ways that construction accidents can happen. The top four include: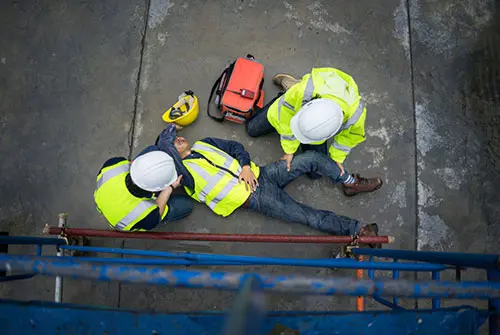 Falls
Being struck by an object
Electrocutions
Caught-in-between objects
On an annual basis, one out of every ten construction workers is injured at work.
Construction site accidents can cause severe bodily harm and death for workers just trying to do their job. Injured construction workers have rights and may be able to file a claim for compensation for their losses. The families left behind when a construction accident is fatal may also be able to file a claim to obtain financial compensation for their losses.
If you sustained injuries on your construction site or if you lost a loved one to a fatal construction site accident the Chicago construction site accident lawyers at Shindler & Shindler can assist you with filing your claim and fighting to get the compensation you deserve from it.
Common Construction Site Injuries
A construction worker faces several perils while on the job and during the course of completing their professional responsibilities. Injuries that are commonly reported from construction site accidents include but are not limited to:
Broken bones
Amputations
Crushing injuries
Sprains
Strains
Puncture wounds and lacerations
Bruising
Brain damage and traumatic brain injuries
Internal and external organ damage
Often, these injuries require extensive medical treatment and while a worker is recovering, they will be unable to work and earn their wages. The damages that an injured construction worker suffers can be included in a Chicago construction accident claim. Examples of damages that may be used in an injured construction worker's claim are:
Missed wages
Medical expenses
Need to be retrained for a new job.
Final expenses
And more
Construction Accident Liability
It is important to determine what entities are liable after a Chicago construction site accident. In some situations, the liable party may be straightforward, but in other situations, this may not be so. Some liable parties may be:
General contractor
Construction site manager
Equipment manufacturers
Building/structure/property owners
Speak with a Chicago Construction Accident Attorney Today
Construction accidents can be devastating for honest workers just trying to do their jobs. Our Chicago construction accident injury lawyers at Shindler & Shindler are here for you when you need help determining who is liable for your injuries and how to file a claim for compensation.
Consultations are always free. Please call Shindler & Shindler at 847-93-FIGHT (847-933-4448) today to schedule yours.