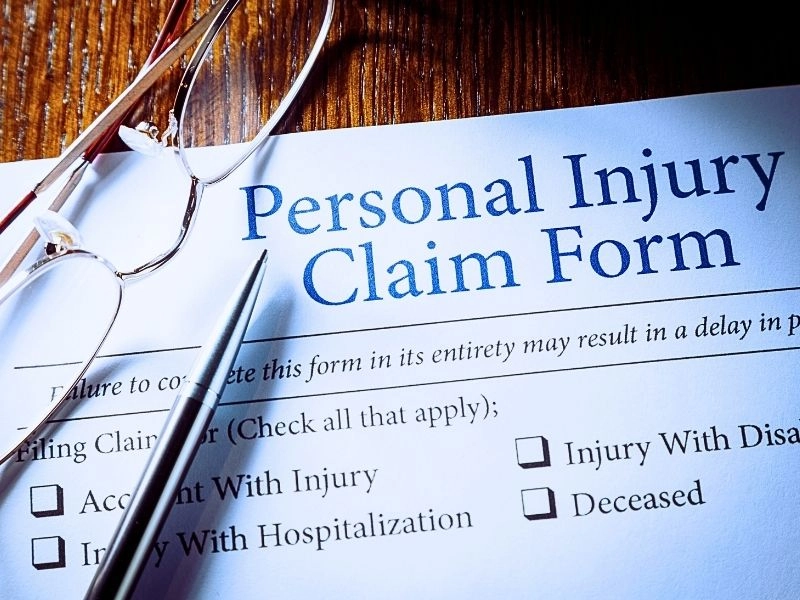 When car accidents, construction accidents, and slip-and-fall accidents happen, victims often sustain severe or life-threatening injuries and permanent disabilities that change their lives. Physical injuries that cause pain, emotional distress, and job loss leave victims asking, "how long do I have to file a personal injury claim to help me with financial hardship?"
Understanding the Statute of Limitations in Illinois
If you're injured in an accident that was not your fault, you have the legal right in Illinois to file a personal injury lawsuit against the responsible party. A personal injury lawsuit is a type of civil lawsuit that allows an injured victim to recover financial compensation from the responsible party or parties who caused the injury. Personal injury lawsuits are commonly filed for the following types of accidents that can result in severe injuries, disabilities, or death:
Every state has its own rules and laws for handling personal injury lawsuits. These types of lawsuits are time-sensitive and must be filed according to the statute of limitations in the state where the accident occurred. If the filing deadline is missed, the court will refuse to hear your case, and collecting damages for your injury will not be an option in the future. Knowing how long you have to file a personal injury claim can help you properly prepare your case without missing important deadlines.
Accidents and personal injury cases are complicated without the help of a personal injury lawyer, who can oversee the filing process and represent you in civil court if necessary. To get compensation in a personal injury case in Illinois, you must prove that the responsible party (the defendant) is legally responsible for your injuries. In most cases, this means proving that the defendant was negligent or careless in his or her actions. Proving negligence requires collecting evidence from the accident scene, copies of police reports, and evidence of unlawful behaviors, like driving under the influence of alcohol or drugs.
Filing Deadlines for Personal Injury Claims
In Illinois, the statute of limitations and filing deadlines for personal injury claims is within two years of the date when the injury occurred. To begin the process, you (the plaintiff) or your injury lawyer must file a complaint against the responsible party (the defendant) that caused the accident and injuries. The complaint must outline the basic facts of the case and explain why the defendant should be held legally responsible for your injuries and financial losses. Your injury attorney will then serve the defendant with a summons and a copy of the complaint. The defendant then has a chance to answer the complaint within a specific time frame.
Illinois courts are required to accept statewide forms that have been approved by the Supreme Court Commission on Access to Justice. Local circuit courts may have their own pre-approved legal forms. For defendants who choose to represent themselves in court, standardized court forms are helpful guides, but these forms are not meant to be a substitute for an experienced personal injury lawyer who understands Illinois laws, filing requirements, and the personal injury claim process.
Exceptions to the Statute of Limitations
While most personal injury cases in Illinois have a two-year statute of limitations for filing claims, some types of personal injury lawsuits have special rules and exceptions to limitation periods. These exceptions apply to personal injury lawsuits for defamation, medical malpractice, and claims against state and local governments in Illinois.
Defamation Lawsuits
In Illinois, you have only one year to file a defamation lawsuit. These types of lawsuits typically include making false accusations or statements, derogatory statements, and slander against another person. Defamation lawsuits usually ensue when actions damage another person's reputation, leading to personal or financial losses.
Medical Malpractice Lawsuits
Typically, medical malpractice lawsuits must be filed within two years of when you first knew you were injured, reasonably should have known you were injured, or when you received notice of your injury. However, Illinois sets a "statute of repose" (an outer limit) of four years on medical malpractice lawsuits. In Illinois, you have four years to file a medical malpractice claim, but after those four years pass, you can not file a medical malpractice lawsuit for any reason, no matter when you discovered or should have known that you were injured.
Personal Injury Lawsuits Against the State or Local Governments
Personal injury lawsuits against a state agency, state employee, or local government in Illinois, must be filed within one year of the date that the injury occurred. State-related claims must be filed with the Illinois Court of Claims. Local government-related claims are filed in regular circuit courts.
The Time-Sensitive Nature of Personal Injury Claims
All personal injury claims in Illinois are time-sensitive, and filing rules and regulations must be followed. You have the option of filing your personal injury claim with one of 24 Illinois circuit courts, but your claim must be filed in the county where the court has proper jurisdiction. The location where your lawsuit is filed can significantly impact issues that may arise during your lawsuit process. The immediacy with which you respond can be the distinguishing factor between a successful outcome with compensation for your injuries and a regretful missed opportunity. By understanding how long you have to file a personal injury claim and taking prompt action, you are not only safeguarding your legal rights, but also maximizing the chances of obtaining the compensation you deserve for your injuries.
How Time Affects the Gathering of Evidence and Witness Statements
Since personal injury cases require proof for a successful outcome, gathering evidence that impacts the case is essential. Documentation is the most common form of evidence in personal injury cases and usually includes the following:
Evidence from the Scene of the Accident – In car, motorcycle, trucking, and pedestrian accidents, the surrounding environment is important. Skid marks, stop signs, traffic lights, and points of impact to vehicles or pedestrians can prove fault. Photos and videos taken at the scene are also used to prove fault.

Physical Evidence – Physical evidence includes tangible objects, like a piece of a broken tail light, a damaged bumper, shredded tires, or empty beer bottles seen in a car accident, or wet floors, frayed carpets, uneven steps, or faulty handrailings seen in slip and fall accidents.

Documentation – Documentation in personal injury cases is essential to prove that injuries occurred. This usually includes medical records from hospitals, clinics, and doctors showing injuries, treatments, prescription medications, and patient prognosis. Documentation may also include traffic and police incident reports, insurance policies, and witness statements.

Witness Statements – Witnesses to your injury can provide written statements that may not be evident through tangible evidence. However, as time elapses, witness recollections can become clouded, details may blur, and the account can become less reliable in court. Witness statements should be taken when the event is still fresh in their minds.
The Importance of Acting Quickly to Preserve the Integrity of a Case
When you're filing a personal injury claim, you should remember two important things, how long you have to file a personal injury claim, and when you should hire a personal injury lawyer. Because personal injury cases are time-sensitive, acting quickly is key for successful results. Personal injury cases can be complicated, so hiring a lawyer and filing a claim should be done as soon as possible to preserve the integrity of the case.
Personal injuries often come with a high price, especially when injuries are severe. You may experience pain, have mobility problems, be left with permanent disabilities, require physical therapy, or need in-home care. If you lose your job or your ability to work, acting quickly will help you get compensation for injuries and lost income. If you file a claim, and you win your case, you can recover damages for the following:
Lost income

Medical bills

Physical pain and suffering

Emotional distress

Loss of companionship and quality of life

Punitive damages
Implications of the Statute of Limitations on the Negotiation and Settlement Process
Not all personal injury claims become lawsuits in an Illinois Civil Court. In fact, many are settled out of court between personal injury lawyers and insurance companies. The Statute of Limitations in personal injury cases only applies to filing timelines. Whether you file a personal injury lawsuit in court or reach a settlement agreement out of court, the process may take several months or longer. However, in many cases, the settlement process is faster, which is an incentive for victims who are facing big financial losses due to job loss and mounting medical and personal bills.