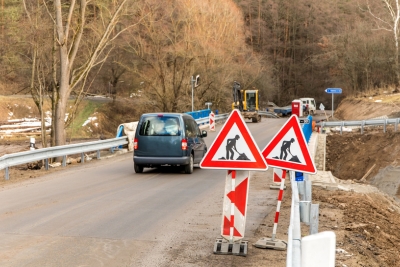 Drivers can avoid accidents when driving in a construction zone by taking a few preventative actions. Slowing down, obeying road signs and road crew flaggers, and maintaining a safe distance between your vehicle and other vehicles, workers, and equipment can reduce the risk of an accident. Drivers should remain alert and avoid distractions like texting or playing with the radio.
Construction zones are a necessary travel complication, but they often pose a risk to drivers and workers alike. Even with proper warning, these road work zones are a safety hazard. For example, road workers work in proximity to vehicles passing them on the road, but they cannot watch out for the traffic on their own.
Road construction workers are typically busy with tasks that carry their own risk of injury. As such, the road construction worker has to rely on his or her co-workers (such as flaggers) and the drivers on the road to prevent accidents.
When driving through a construction zone, paying attention to changing road conditions is essential. Potential hazards like uneven driving surfaces, gravel hitting your vehicle or becoming a projectile, construction equipment, and even the road crews themselves can cause a construction zone accident.
When road conditions change rapidly, and you are unaware of potential hazards, the likelihood of an accident increases. Extra caution should be used while driving through construction zones. To give you as much response time to these potential hazards as possible, reducing your speed to the recommended rate of speed is your first step toward safety.
Ways to Prevent Construction Zone Accidents
According to Work Zone Barriers, work zone fatalities reached a 17-year-high in 2021. That year, over 105,000 work zone crashes were estimated to have occurred, resulting in over 42,000 injuries and 954 work zone fatalities. While construction zones on our roadways are legally required to be marked appropriately with clear signage, drivers are also responsible for paying attention to the signage. These signs can include warning signs about the construction ahead, lanes being closed, having to yield to other traffic, reducing your speed, as well as alerting drivers of other potential hazards. It is also the law that road markings must be maintained to ensure that they are always visible and remain effective.
Some drivers may not realize that failing to reduce their speed or attempting to pass/merge late is dangerous (and even deadly) in a construction zone. To take preventative measures against accidents when driving in a construction zone, drivers should:
 

Research the route. When possible, and use detours or alternate routes to avoid construction work zones.

 

Slow down. Traffic pattern changes and lane closures are expected in work zones; slowing down will help to increase the time you need to react.

 

Pay attention. Keeping your eyes on the road is essential for safety, but is paramount in work zones so that you are aware of signage and workers throughout the area.

Move into the open lane. Be sure to pay attention to surrounding vehicles (including those that may be in your blind spot) and move into the open lane as soon as possible when approaching lane closures.

Keep your distance. Maintaining extra space between you and the vehicle in front of you will help you to avoid rear-end crashes, which are common in work zones.

 

Watch out for larger or commercial vehicles. Trucks and buses have limited maneuverability and large blind spots. Be mindful of your position in regard to these vehicles, as drivers may not see you.
Driving safely, but being prepared to drive defensively if need be, will help you to navigate all stretches of the road. If you have been harmed in a construction zone accident due to the negligence of another driver, you have the right to pursue financial compensation for any damages that you may have sustained.
Common Construction Zone Accidents
Even though there are additional hazards in construction zones, the most common danger to you as a driver is actually other drivers. While driving through construction zones, the standard rules of the road change. Speeds are reduced, a lane may be closed, you may not be able to turn, or a person from a road crew may be out directing traffic. When drivers fail to adjust their behavior in a construction zone, the following accidents may occur:
Rear-End Collisions: These occur when a driver fails to maintain a safe following distance and collides with the vehicle in front of him or her. Sudden stops or slowed traffic in construction zones can lead to these accidents.

Sideswipes: Drivers may unintentionally veer into adjacent lanes due to narrowed lanes or temporary lane shifts, resulting in sideswipe collisions with other vehicles.

Merge and Lane Change Crashes: Ill-timed or delayed lane changes may lead to accidents when driving through construction zones with lane closures.

 

Head-On Collisions: In some construction zones, traffic may be routed onto opposing lanes of a divided highway. If drivers do not adhere to the lane markings or fail to recognize the change, head-on collisions can occur.

Fixed Object Collisions: Construction zones often have barricades, cones, signage, and equipment positioned close to the roadway. Drivers may collide with these fixed objects if they stray from their lane.

 

Construction Equipment Accidents: Accidents involving construction vehicles or equipment can happen when drivers fail to yield the right-of-way to these large, slow-moving vehicles or when construction vehicles make unexpected movements.
Construction Zone Liability
Assigning liability after a construction zone crash is essential for victims looking to recover financially. There are many factors that need to be evaluated before liability in a construction accident can be determined. The behavior of the involved drivers, the condition of the signage in the work zone, the actions of the workers in the area, and any other contributing factors can determine who is liable for the accident. Speaking with an experienced accident attorney can help you determine liability after a crash.
Steps to Take After an Accident
After you are involved in a construction zone accident, there are steps that you should take to help ensure your safety and protect your legal rights:
   

If you are able, moving your vehicle to the side of the road will help avoid additional accidents.

   

Check yourself and any passengers for injuries, and call 911 for emergency medical help.

   

Exchange contact information with the other driver, including current insurance information.

   

Take pictures of the scene of the accident and make sure to include both vehicles.

   

Contact your insurance company to report the accident and see if any additional information, besides what you have already gathered, is needed.

   

Get into contact with an accident attorney as a way to ensure that your rights are protected.
Understanding what to do after a car accident can help ensure all parties involved are safe.
Illinois Law on Reporting Car Accidents
If you've been in an accident, you may be wondering, "should I file a police report?" Illinois state law states that any driver involved in a crash in the state must file a police report within ten days of the incident if the accident resulted in an injury or death or if there is more than $1,500 in damages done to the property. If the police respond to the scene of the accident, you can complete the accident report on-site. You may also file your accident report online or at your nearest police station. Not only will the police report include all pertinent information, but if you decide to seek compensation for injuries you or your passengers sustained, property damage, and other damages, your case will be stronger with a copy of a filed police report. The law does not require you to call first responders to the scene of your accident. However, seeking medical care right away helps to legitimize your injuries and tie them to the crash.
Types of Compensation Available in an Accident Claim
After an accident, there are different types of compensation victims can seek. Compensation may be recovered for any medical expense, damages to your personal vehicle, wages you missed out on due to injury, and pain and suffering. Punitive damages, or damages exceeding compensatory damages and awarded to punish the negligent party, may also be awarded in some cases. However, these only apply in cases involving egregious misconduct. Speaking with a well-versed accident attorney will help to ensure that your rights are protected and that you know what types of compensation you may recover.
Even if you don't believe that you need an auto accident attorney, reaching out and requesting a consultation will be in your best interest. The attorneys at Shindler & Shindler will answer any questions that you may have and help you understand your rights. They can help to ease your mind with their ability to assess your case and advise you on the best course of action. Then, an attorney can build your case and negotiate a fair settlement with the at fault party.