Over 65+ Years of Combined Experience
The devastation that results from motorcycle accidents specifically for the motorcycle rider and the passenger on a motorcycle tends to be severe when a crash happens. This is especially true when compared to other vehicles on the road like passenger vehicles and trucks, for example.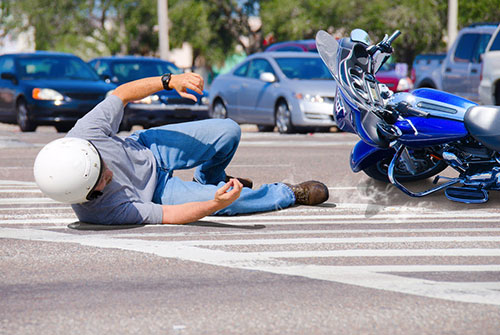 Motorcycle riding may be leisurely, but when a motorcycle accident takes place, substantial physical bodily harm and death often result. While wearing a helmet and other types of protective clothing are helpful, a lack of surrounding body protection makes a big difference in the outcomes of those in motorcycle crashes versus those in a car or van when a collision comes about.
It is critical that motorcycle accident victims have the most experienced and competent legal counsel after a crash. The extent of damages that victims on a motorcycle sustain tend to be much more severe than those that are in an enclosed vehicle is likely to suffer. Motorcyclists do not have seatbelts and there are no metal walls around them that can take on some amount of the forceful impact that other cars or objects inflict.
Because compensation for victims of motorcycle accidents in Chicago can be so substantial, it is imperative that victims equip themselves with the most experienced and knowledgeable Chicago motorcycle accident lawyers when pursuing a claim for compensation.
At Shindler & Shindler, our team of experienced attorneys takes the rights of motorcycle injury victims seriously.
We will fight to protect your rights and secure the highest amount of financial compensation on your behalf possible. For motorcycle accident victims, an aggressive approach to legal claims for compensation is often necessary. Our attorneys know how to support victims of motorcycle accidents from start to finish. We offer motorcycle accident victims in Chicago legal professionals prepared to strategically negotiate in their best interest outside of the court and aggressively litigate in court should a case go that far.
Damages Motorcycle Victims Can Sustain
Compensation in these cases tends to be substantial because the injuries and devastation are many times, so severe. A Chicago motorcycle accident victim may be able to include these damages and more in their injury accident claims:
Medical costs for treatment of injuries both those that are current and future medical needs
Lost wages from inability to work while recovering
Permanent disfigurement
Permanent Disability
Property damages
Pain and suffering
Work with an Aggressive and Trusted Motorcycle Accident Attorney in Chicago
It is often the case that motorcycle accident victims are so severely injured they may need rapid emergency treatment. The aftermath of such events can mean considerable physical bodily harm for victims of motorcycle accidents. These types of injuries can impair a victim's life in the long term and treatment for such harm is very costly.
A Chicago motorcycle accident attorney at Shindler & Shindler knows the depths that individuals in these circumstances suffer both physically, emotionally, mentally, and financially. Our team is dedicated to aggressively fighting for your rights so you can sustain maximum recovery to overcome the losses suffered in these catastrophic events.
Speak with a Chicago Motorcycle Accident Attorney Today
At Shindler & Shindler, our attorneys understand how impactful and catastrophic motorcycle accidents can be. Our talented legal team takes great pride in helping victims of motorcycle accidents in Chicago preserve their rights and secure maximum recovery.
If you need help after a motorcycle accident with filing a claim for compensation, please call the Chicago motorcycle accident lawyers at Shindler & Shindler. Consultations are always free. Our friendly and talented team can be reached at 847-93-FIGHT (847-933-4448).
Motorcycle accidents can have some of the most devastating consequences, victims deserve full and maximum compensation.