Keith Shindler and Robert Shindler Are Personally Involved in Every Case
The Centers for Disease Control and Prevention (CDC) reports that over 7,000 pedestrians lost their lives in crashes with vehicles in 2020 alone. This means that every 75 minutes that year a pedestrian death took place.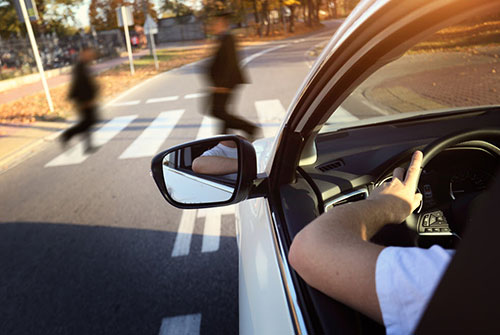 If you lost a loved one to a fatal pedestrian accident in Chicago or if you were injured as a pedestrian, you can speak with the Chicago pedestrian accident attorneys at Shindler & Shindler today to learn more about your legal options for filing a claim for compensation. Our skilled legal team understands how devastating these incidents are and the extensive injuries and losses victims of pedestrian accidents suffer. We will fight for you to get the most compensation possible from a Chicago injury accident claim.
Top Causes of Pedestrian Accidents
There are many reasons why a vehicle can hit a pedestrian. These incidents can injure or fatally kill a pedestrian.
Drivers that are distracted
Drivers that are drunk
Electric cars are much quieter than combustion vehicles
Speeding
Drivers that ignore the rules of the road
Not using turn signals
All of these actions constitute negligence on the part of the driver. When the driver is not being responsible for their behavior behind the wheel and they hit you, you can file a claim against them for financial compensation for the losses you suffered. The Chicago pedestrian accident attorneys at Shindler & Shindler can help you with your claim.
Who is Liable for a Pedestrian Accident?
In most cases, the pedestrian who is hit by a vehicle takes suffers the most physical bodily harm from the accident. Even though this is often true, depending on the situation the pedestrian may be liable for the accident or the driver of the car could be culpable. The following examples show how both of these parties could be held accountable for causing a pedestrian accident.
A driver is not paying attention to the road and does not notice the pedestrian before they hit them. The pedestrian is following the rules of the road and correctly crossing a street on a crosswalk when the traffic light signals they can. The driver would be the liable party for causing the pedestrian accident.
The pedestrian is drunk and not able to walk with stability and balance. They stumble out into the street and are hit. It is likely the pedestrian can be liable for their accident.
Determining who is at fault for a pedestrian accident takes a talented and seasoned Chicago pedestrian accident attorney at Shindler & Shindler.
Talk to a Chicago Pedestrian Accident Attorney Today
Whether you are a driver that hit a pedestrian who was behaving negligently or if you were a pedestrian that was harmed by a reckless driver, the Chicago pedestrian accident injury lawyers at Shindler & Shindler can help. The aftermath of pedestrian accidents can be devastating and victims may be able to file a claim for the following damages and more:
Medical expenses
Pain and suffering
Permanent disfigurement
Missed wages
Pain and suffering
Call Shindler & Shindler today at 847-93-FIGHT (847-933-4448) to schedule a free consultation to discuss your case.