Aggressive, Experienced Personalized Representation
It is often the case that when a much smaller vehicle collides with a massive commercial truck, the outcome is deadly. That is, for occupants of the smaller vehicle. Considering a truck can weigh as much as 80,000 pounds up against your typical passenger sedan at as heavy
as 4,000 pounds on the high end, this is just no match.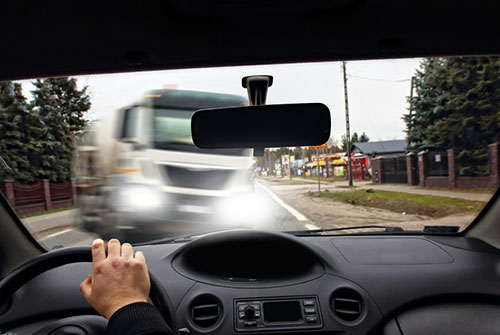 Because large semi-trucks are the main form of transportation for goods and services across the United States, there is no avoiding driving near these large and heavy vehicles. All it takes is just one error or misjudgment on behalf of a truck driver for cataclysmic results on the roadways to ensue.
In Illinois, if you were hit and injured by a large truck you have rights. You may be able to file an Illinois truck accident injury claim for compensation for all of your damages. This includes those that you are experiencing currently and those that you are expected to have to endure in the future. Because victims of commercial truck accidents tend to have substantial injuries, future costs also commonly exist and can be considerable.
Working with a Truck Accident Attorney
It takes a talented and experienced truck accident attorney to manage these complicated claims. When it comes to commercial truck accidents, there can be many more than one party possible for paying a victim's damages. These damages may include:
Lost wages
Medical expenses
Pain and suffering
Permanent disfigurement and disabilities
Missed wages
Funeral Expenses
And more
It is critical that personal injury victims work with the most experienced and knowledgeable truck accident attorney when it comes to handling these types of claims. Identifying who is liable, and there can be multiple parties, is something that only a seasoned truck accident attorney is equipped to do.
The Chicago truck accident lawyers at Shindler & Shindler have the experience, know-how, and skill to help victims of these complicated injury accidents get the most from all parties who are liable for their damages.
Liable Parties in a Commercial Truck Accident
Truck accidents are a little different from a typical car accident when it comes to determining fault. This is one of the reasons why truck accident claims can be much more intricate to manage than a passenger vehicle collision. Commercial truck accidents may have one or more than one party who is responsible for paying the victim's damages. These include:
The driver of the truck.
The Manufacturer of the truck and its parts.
The trucking company.
Cargo owners that load trucks improperly.
Owners of the trailer.
When a truck accident in Chicago happens that is not your fault, you may be able to secure significant compensation for the losses you suffered by filing a claim for financial compensation.
Contact a Chicago Truck Accident Attorney Today
Truck accidents can have catastrophic results. The Federal Motor Carrier Safety Administration (FMCSA) reports truck accident statistics and shows that every year in the United States there are thousands of lives lost to fatal truck accidents.
Handling truck accident claims should only be done by an attorney that has knowledge and proficiency with these legal matters. For help with your Chicago truck accident claim, you can call on the Chicago truck accident attorneys at Shindler & Shindler to schedule a free consultation at 847-93-FIGHT (847-933-4448)